Cahoon Museum of American Art
4676 Falmouth Road (Route 28)
Cotuit, Massachusetts 02635
The Cahoon Museum is open Thursdays – Saturdays, 10:00 am – 4:00 pm. To ensure the safest and most welcoming experience we ask visitors to pre-register as we are required to record a contact name and phone number and limit capacity. Drop-by visitors are welcome, space permitting.
Click here to register for timed entry, or contact visitor services by phone or via email:
Email: info@cahoonmuseum.org | Phone: 508-428-7581
Winter Open House
December 6, 2020, 10:00 AM – 4:00 PM
Join us at our free Open House! See the exhibitions, explore the Museum with our fun family-friendly activities, and take home a special prize. REGISTER NOW
To ensure the safest and most welcoming experience we ask visitors to pre-register for a specific time as we are required to record contact information and limit capacity.
For more information contact visitor services by phone or via email:
info@cahoonmuseum.org | 508-428-7581
On View: Through December 22, 2020
Sally Mavor: Bedtime Stitches
Debuting the original artwork for Salley Mavor's latest book, My Bed: Enchanting Ways to Fall Asleep around the World, the Cahoon Museum presents a series of sculptural embroideries that celebrate cultural differences and highlight the universal theme of children sleeping safe in their beds. For My Bed, author Rebecca Bond created the book's poem and Salley Mavor illustrated accompanying scenes which bring children and their varying surroundings to life.
Adria Arch: Interference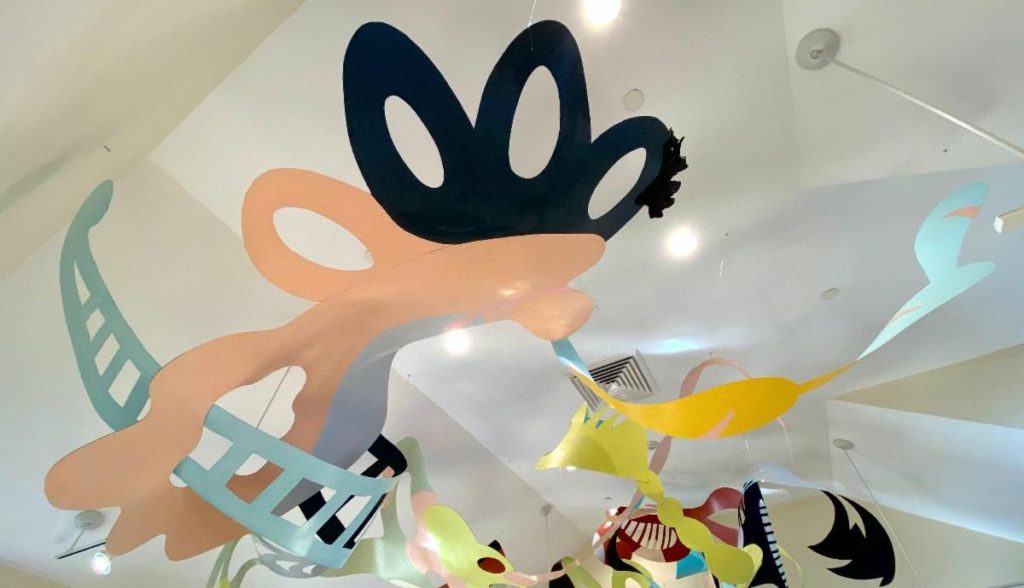 Adria Arch's newly commissioned work of oversized, colorful, and interconnected shapes emerges from the Museum's lobby, pops out of hearths, tumbles down stairwells and playfully encompasses the Museum's interactive family room. Responding to the building's unique architectural features, Arch's work twists, turns, spins, and leaps while exploring the fine line between sculpture and painting.
Edward Curtis: Shadow Catcher
This exhibition features a selection of early 20th century photographic images from Edward Curtis' renowned body of work, The North American Indian, one of the most significant records of Native American culture ever produced.
Drive by Exhibit: Alfred Glover: Garden Grove
The Cahoon Museum's new drive-by exhibition, Garden Grove, features colorful sculptures by Cape artist Alfred Glover. The exhibition is part of the Museum's ongoing Streetside series and remains on view throughout the year. Here's the link: https://cahoonmuseum.org/alfred-glover-garden-grove/
A dynamic center for education and appreciation of the visual arts, the Cahoon Museum is home to a collection of American art with a special focus on regional art of the Northeast and Cape Cod.
The museum celebrates the creative spirit of folk artists Ralph and Martha Cahoon through the preservation of their artwork and the 1775 historic building which served as their home and studio.
The Cahoon Museum presents multiple changing exhibitions each year in its historic house galleries and new state-of-the-art exhibit space. The museum recently expanded with a new fully accessible, family-friendly addition.
~Explore the galleries virtually: https://cahoonmuseum.org/exhibitions/
Link to the website: https://cahoonmuseum.org