New York Botanical Garden
2900 Southern Boulevard
Bronx, New York 10458-5126
The Garden is open 10 a.m.–5 p.m., Tuesday to Sunday, and Monday federal holidays.
All visitors, including Members, must purchase or reserve timed-entry tickets in advance.
Discover spectacular gardens and collections across our 250 acres. Walk the shaded trails of our old-growth forest. Relax near a sparkling natural waterfall in the Bronx River. Stroll along the Native Plant Garden's breezy promenade and meadow. There's so much to see—from vibrant palettes of daylilies and hydrangeas to the tranquil beauty of water lilies and lotuses.
Plan your visit today. Explore what's beautiful now, dig deeper into our collections with audio tours, embark on an adventure with our kids and family activity guide, and more.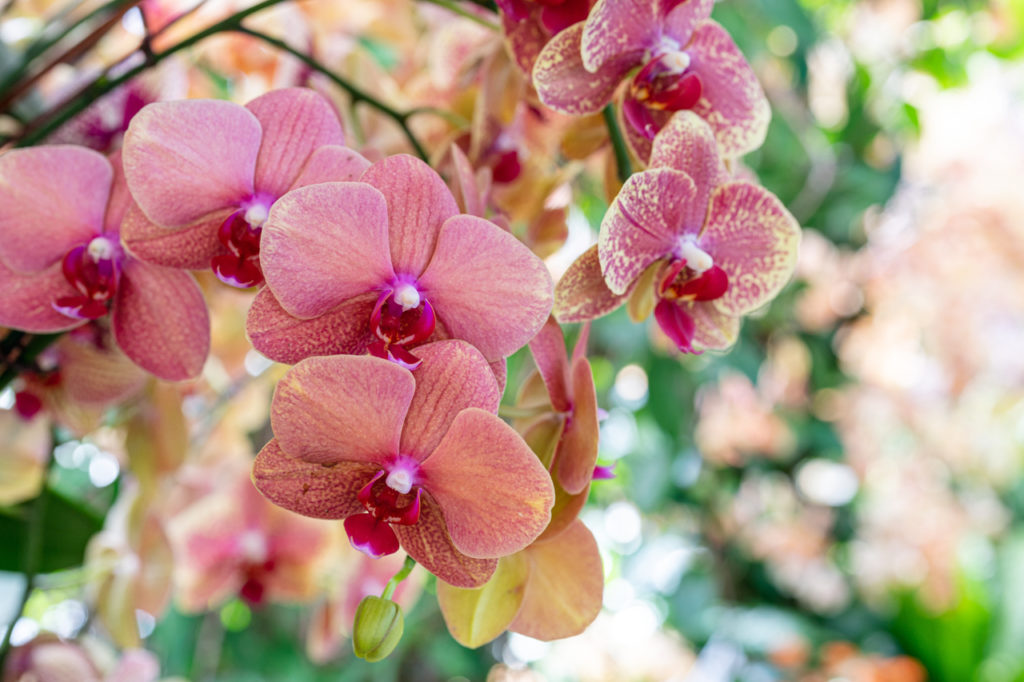 Spotlight on Orchids
Now through Sunday, April 4, 2021, 10 am – 5 pm
A visit to select galleries of the Enid A. Haupt Conservatory reveals intimate displays of orchids in brilliant white and striking colors set against the foliage of aroids, ferns, and bromeliads—planted as they might be found in nature and blending gracefully with their surroundings. Discover unusual orchids from NYBG's renowned collections, as well as artful floral creations by Garden horticulturists that combine expressive orchids with rocks, tree trunks, vines, and other found materials.
Continuing with reduced indoor capacity, we are forgoing our traditional orchid exhibition this year in favor of a limited Spotlight on Orchids and other permanent plant collections in the Haupt Conservatory. We are pleased to offer access to the Conservatory and Spotlight on Orchids to all visitors with a Garden Pass + Conservatory ticket, and we look forward to the return of The Orchid Show in 2022.
Link to Spotlight on Orchids: https://www.nybg.org/event/spotlight-on-orchids/?utm_source=marketing&utm_medium=email&utm_campaign=newsletter-021621&utm_content=spotlight-on-orchids
Rediscover the Enid A. Haupt Conservatory—reopening with very limited capacity in accordance with New York Forward safety guidelines. Explore its newly restored iconic palm dome, replanted with majestic soaring species from around the world, along with galleries featuring aquatic plants and vines, lush tropical rain forests, cactus-filled deserts, and many other natural habitats.
Link to the Haupt Conservatory: https://www.nybg.org/garden/conservatory/
21st Annual Winter Lecture Series: Gardens of Meaning – All Three Lectures – ONLINE
This lecture series will take place online. Registered students will receive login instructions.
This year's speakers approach the garden from non-traditional perspectives-healing, inclusiveness, and music-that add new layers to our notions of beautiful spaces and the gardening experience.
Larry Weaner: Music Composition and Landscape Design
Thursday, 3/25, 11 am-12 pm | ONLINE | 213GAR801DO
For landscape designer and composer Larry Weaner, garden design and music composition have much in common. While one may be visual and the other sonic, both look to explore freedom of expression within formal constraints. Both are endlessly engaging pursuits, where no matter how much you know, there is always more to discover. Working with plants—like playing jazz—is a give and take, a call and response, where every action stimulates a reaction—with sometimes unexpected consequences. Weaner believes that understanding the principles and techniques of composition can help designers create "musical" landscapes that can evoke powerfully direct emotional responses, reveal themselves gracefully over time and the seasons, and incorporate elements of improvisation.
**All visitors, including Members, must purchase or reserve timed-entry tickets in advance.
Winter Adult Education Classes: https://www.nybg.org/learn/adult-education/

My Day at the Garden, On-going
As you explore the Garden with your family, use our Family Guide to record what you find while completing activities in the Thain Family Forest, Barnsley Beds, the Native Plant Garden, and Wetland Trail.
Stay connected with many other online offerings:
https://www.nybg.org/nybg-at-home/?utm_source=marketing&utm_medium=email&utm_campaign=0320-nybg-at-home&utm_content=explore&fbclid=IwAR2yirlUaiaW1mMVM_7aVGaIrz_9CnQ0_2sOdOk3QMc-K9TvsdJ_N7toeZg
The New York Botanical Garden is an iconic living museum, a major educational institution, and a renowned plant research and conservation organization. The 250-acre site contains a landscape with over one million living plants; the Enid A. Haupt Conservatory, a greenhouse containing several habitats; and the LuEsther T. Mertz Library, which contains one of the world's largest collections of botany-related texts.
Link to the website: https://www.nybg.org