Museum of Fine Arts
465 Huntington Avenue
Boston, Massachusetts 02115
Welcome back!
Hours: Wednesday to Sunday, 10 am–5 pm
Closed January 1, July 4, November 25 & December 25.
Remember, all visitors need to reserve timed-entry tickets in advance, including members. Some areas of the Museum are temporarily closed, but there are plenty of galleries to explore. See what's On View.
Members, get your free tickets now and choose preferred time slots.
Current exhibitions: https://www.mfa.org/exhibitions
Upcoming exhibitions: https://www.mfa.org/exhibitions/upcoming
Program Calendar: https://www.mfa.org/programs
Please keep art in your lives with our digital offerings:
The Obama Portraits Tour
The acclaimed portraits of President Barack Obama and Mrs. Michelle Obama come to the Museum of Fine Arts on the final stop of their national tour
Kehinde Wiley's portrait of President Barack Obama and Amy Sherald's portrait of former First Lady Michelle Obama have become iconic since the moment they were unveiled in 2018. A striking departure from earlier presidential portraits and images of first ladies, the two paintings have inspired unprecedented responses from the public.
Wiley and Sherald are the first African Americans commissioned by the National Portrait Gallery to create official portraits of a president and first lady. Their distinctive artistic visions are rooted in the tradition of American portraiture but committed to making space for people of color. Through their portraits, which are at once extraordinary and approachable, audiences can see themselves in President Obama and the former First Lady.
The seventh and final stop on a US tour that began in June 2021, the Museum of Fine Arts, Boston, is thrilled to offer audiences in New England and throughout the world a chance to experience in person these works of art exploring power, identity, and legacy throughout history.
"The Obama Portraits Tour" is expected to reach millions of people who might not otherwise have an opportunity to view these remarkable paintings. Previous stops include the Art Institute of Chicago, Brooklyn Museum, Los Angeles County Museum of Art, High Museum of Art, Atlanta, Museum of Fine Arts, Houston, and de Young Museum, San Francisco.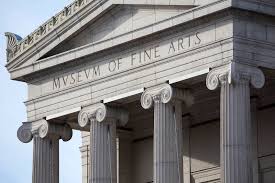 The Museum of Fine Arts (often abbreviated as MFA Boston or MFA) in Boston, Massachusetts, is the 17th largest art museum in the world, measured by public gallery area. It contains more than 450,000 works of art, making it one of the most comprehensive collections in the Americas. It is home to 8,161 paintings, surpassed among American museums only by the Metropolitan Museum of Art in New York City.
The Museum of Fine Arts houses one of the world's most comprehensive art collections and is renowned for its Impressionist paintings, Asian and Egyptian collections and early American art.
Explore the collections: https://www.mfa.org/collections
MFA at Google Arts & Culture: https://artsandculture.google.com/partner/museum-of-fine-arts-boston
Link to the website: https://www.mfa.org
Image Credits: mfa.org unless otherwise noted