Museum of Fine Arts
465 Huntington Avenue
Boston, Massachusetts 02115
Welcome back!
Hours: Wednesday to Sunday, 10 am–5 pm
Closed January 1, July 4, November 25 & December 25.
Remember, all visitors need to reserve timed-entry tickets in advance, including members. Some areas of the Museum are temporarily closed, but there are plenty of galleries to explore. See what's On View.
Members, get your free tickets now and choose preferred time slots.
Current exhibitions: https://www.mfa.org/exhibitions
Upcoming exhibitions: https://www.mfa.org/exhibitions/upcoming
Please keep art in your lives with our digital offerings: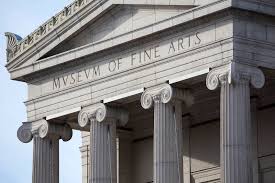 Celebrating its 150th Anniversary, The Museum of Fine Arts (often abbreviated as MFA Boston or MFA) in Boston, Massachusetts, is the 17th largest art museum in the world, measured by public gallery area. It contains more than 450,000 works of art, making it one of the most comprehensive collections in the Americas. It is home to 8,161 paintings, surpassed among American museums only by the Metropolitan Museum of Art in New York City.
The Museum of Fine Arts houses one of the world's most comprehensive art collections and is renowned for its Impressionist paintings, Asian and Egyptian collections and early American art.
Explore the collections: https://www.mfa.org/collections
MFA at Google Arts & Culture: https://artsandculture.google.com/partner/museum-of-fine-arts-boston
Link to the website: https://www.mfa.org