Philadelphia Museum of Art
2600 Benjamin Franklin Parkway
Philadelphia, Pennsylvania 19130
Hours:
Sunday, 10:00 a.m.–5:00 p.m.
Monday, 10:00 a.m.–5:00 p.m.
Tuesday, Closed
Wednesday, Closed
Thursday, 10:00 a.m.–5:00 p.m.
Friday, 10:00 a.m.–8:45 p.m.
Saturday, 10:00 a.m.–5:00 p.m.
Closed July 4, Thanksgiving & Christmas
**Proof of full vaccination now required to dine indoorsand for all museum visitors (age 5+) beginning Jan 24, 2022**
Exhibitions and Events: https://philamuseum.org/calendar
Tours: https://www.philamuseum.org/calendar/view-all/all/tours
Exhibitions: https://www.philamuseum.org/calendar/view-all/all/exhibitions
New Galleries and Public Spaces!
This project by the celebrated architect Frank Gehry represents a major milestone in the renovation, reorganization, and interior expansion of the museum's landmark 1928 building. Join us and discover the stunning transformation that has been four years in the making.
Celebrate our opening with Pay What You Wish admission May 7–10.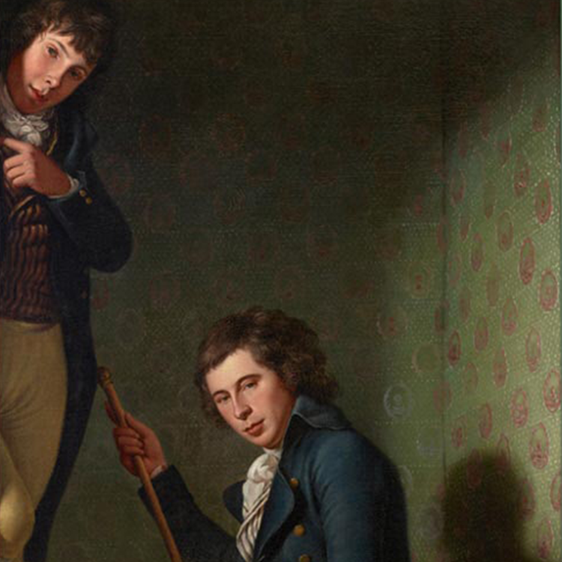 New Early American Galleries
Open!

Trace the origins of our city's extraordinary creativity in our brand new Early American Art galleries. The 10,000-square-foot space has been installed to tell the story of how Philadelphia became the young nation's cultural capital, and how Black, Indigenous, and Latin American artists contributed to the development of American art.
Stroll through spacious, beautifully lit galleries—a highlight of the museum's extensive renovation project—featuring our unparalleled collections of paintings, ceramics, furniture, glass, silver, and more.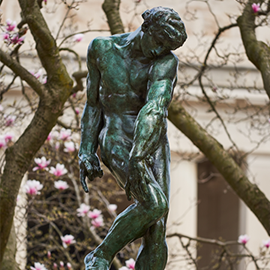 Rodin Museum
After a yearlong closure, we're happy to welcome you back to the Rodin Museum. A limited number of people are permitted in the building at one time, and access is first-come, first-served; no advance reservations.
Rodin's Hands
Auguste Rodin almost obsessively explored the expressive power of hands, using them to convey an infinite variety of emotions and experiences. This exhibition, on view at the nearby Rodin Museum, highlights fifteen bronzes and plasters, many of them rare or unique to the Philadelphia collection. Discover how the reuse, reorientation, and repurposing of hands offer insight into the French sculptor's creative process.
Key Works:
Enlarged hands or those distended by age or disease were vital components of figural sculptures such as The Burghers of Calais or The Helmet-Maker's Wife. It is thought that he conceived The Clenched Hand and The Left Hand as studies for The Burghers of Calais but rejected them as being too animated. Later works, comprised of hands cut at the wrist or forearm, offer symbolist essays on humanity and creation.
A piece unique to the Rodin Museum is the bronze sculpture of clasping hands titled Two Hands. The plaster model for it at the Musée Rodin in Paris is inscribed: "Hands of Rodin and Rose Beuret," suggesting that the hands are those of the sculptor and his mistress and partner.
The Cathedral depicts two over-life-size right hands whose fingertips are about to touch. The sculptor published a book on the Gothic cathedrals of France in 1914 and renamed this piece (formerly called The Arch of Alliance) after the rib vaulting found in Gothic churches.
In Rodin's vision of creation, The Hand of God emerges not from heaven but from earth and cradles a rock from which male and female figures emerge. The divine hand with its open, curving palm and outstretched index finger is identical to a right hand that appears twice in The Burghers of Calais.
A work by Barbara Hepworth, who shared Rodin's interest in hands, will also be included.
View the art collections online: https://philamuseum.org/collection
Make art come to life for your pre-K–12 by exploring our lesson plans: https://philamuseum.org/learn
Come visit our iconic main building on the Parkway. We are home to 200 galleries of world-class art and Philadelphia's destination for creative play. Discover works in the collection that have drawn visitors from around the world. Search our online collection database or visit in person.
Link to the website: https://philamuseum.org
Image Credits: philamuseum.org unless otherwise noted