Pottsgrove Manor
100 W King Street
Pottstown, Pennsylvania 19464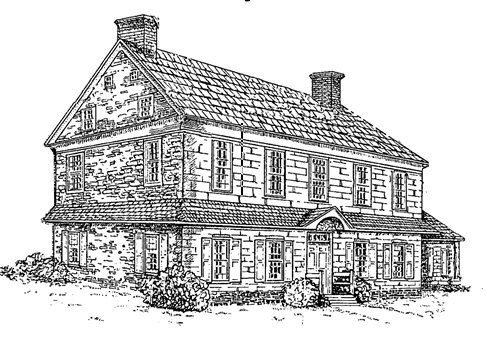 Guided Tours:
Tuesday through Saturday at 10:00 am, 11:30 am, 1:00 pm, and 2:30 pm
Sunday at 1:30 pm and 3:00 pm
Click here to schedule your tour at Pottsgrove Manor
Take a Virtual Tour here: https://my.matterport.com/show/?m=A8YeChKuQyU
18th Century Holiday Frost Fair
Sunday, December 12, 2021 from 11:00am to 5:00pm
Welcome winter like never before at Pottsgrove Manor's new holiday program, an outdoor Frost Fair! Discover the world of an 18th century winter market with living history demonstrations and a chance to find a perfect gift inspired by the past. Play popular games from the 1700s that the whole family can enjoy. Smell the spices from gingerbread being prepared in the outdoor bake oven and see if there is any songs you know being sung in the tavern tent. Once you have strolled through the fair, journey into the museum to learn about the traditions of a colonial yuletide. Bring a true sense of history to your holiday season with the Frost Fair at Pottsgrove Manor.
Pottsgrove Manor exemplifies the restrained elegance of early Georgian architecture popular with wealthy English gentry during the mid-18th century. Built in 1752 for John Potts, ironmaster and founder of Pottstown, the mansion was situated on a nearly 1,000 acre plantation, which by 1762 included the town of "Pottsgrove."
As a successful ironmaster and merchant, John Potts, was appointed Justice of the Peace and Judge on the Philadelphia County Court of Common Pleas. He was elected to the Pennsylvania General Assembly from both Berks and Philadelphia Counties.
Although only four acres of original property remain today, Pottsgrove Manor has lost none of its original charm and architectural beauty. The sandstone exterior, elegant interior and fine furnishings reflect the eminence that the Potts family had attained before selling the property in 1783. The mansion has been restored to recreate the lifestyle and times of the Potts family. Pottsgrove Manor is open year-round for guided tours, as well as public programs, school tours, lectures, and workshops. A museum shop on site offers a fine selection of 18th century reproduction items, books, toys, and more.
Link to the website: https://www.montcopa.org/930/Pottsgrove-Manor

Image Credits: montcopa.org unless otherwise noted