Rehoboth Art League
12 Dodds Lane
Rehoboth Beach, Delaware 19971
Our gallery building will be open regular hours. Open Studios, available to Rehoboth Art League members, will be operational–with strict guidelines and participant limitations.
Mon-Sat: 10am – 4pm
Sun: 12pm – 4pm
36th Annual Holiday Fair – Fine Craft Show
November 7 & November 8, 2020, 10:00 am – 4:00 pm
Virtual Booth open now!
The 36th Annual Holiday Fair Fine Craft Show, to be held November 7 & 8, 2020, will feature a variety of artisans exhibiting and selling their work, including jewelry, glasswork, ceramics, woodworking, mixed media, and decorative and wearable fiber creations. Patrons can stroll the campus and find artists throughout the historic Homestead, Chambers Studio, and the Corkran and Tubbs galleries to select the perfect gifts for family, friends and themselves.
This year, we are happy to open the Holiday Fair shopping early, with Virtual Booths opening October 10. Patrons may shop from artists' Virtual Booths, an online collection of their offerings, through Friday, November 6. Purchases from artists' Virtual Booths can be made with a simple email or call to our gallery and items will be available for pick-up the weekend of the on campus event, November 7 & November 8 (10am-4pm). Browse our Virtual Booths now:
Link to the Holiday Fair Virtual Booths: https://www.rehobothartleague.org/events/holiday-fair/
The Rehoboth Art League presents more than two dozen solo, group, and special art exhibitions each year in their six galleries located throughout the 3+ acre wooded campus.
Arts-driven events can be found at the Rehoboth Art League year-round, and highlight the best of their members' artwork as well as notable art and design of the area.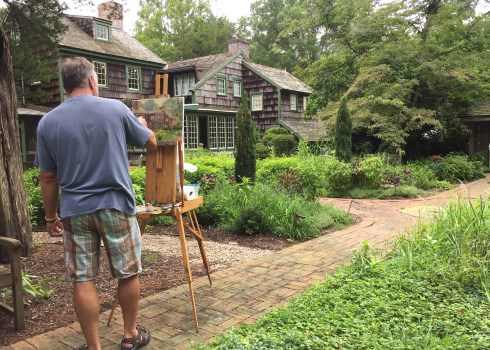 With a wide array of course offerings held year-round both on- and off-campus, the Rehoboth Art League has something for every student, from the novice to the professional and practicing artist. With more than 150 classes offered each year, their instructors' offerings include mediums such as painting, drawing, pottery, fiber art, mosaic, creative writing, and much more.
Link to the website: https://www.rehobothartleague.org