Maine Historical Society
489 Congress Street
Portland, Maine 04101
Upcoming 2021 Events:
2023 programs: https://www.mainehistory.org/programs_events.shtml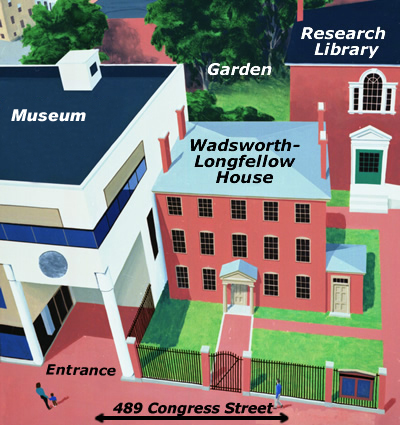 Portland, Maine: Maine Historical Society (MHS) will re-open to the public on a limited basis beginning Wednesday, July 8.
Located on its one-acre Portland campus at 489 Congress Street, MHS is comprised of the Brown Research Library, Museum and Galleries, Museum Store, Longfellow Garden, Wadsworth-Longfellow Family House, Public Programs, and Maine Memory Network, an online collaborative platform accessible anywhere via the internet. Public access to the Museum, Galleries and Library will be limited by appointment or pre-ticketing only. This allows for proper 6-foot social distancing within each facility's capacity. Gallery walk-ins are subject to availability, and Library walk-ins are not allowed.
MHS PUBLIC SCHEDULE AND ACCESS LIMITS:
~Brown Research Library: Hours: Wed–Sat: 1:00 am–4:00 pm. More info.
~MHS Museum/Galleries: Wednesday–Saturday 10am–5:30pm.
Limited to 5 visitors at a time during a 90-minute block. People are urged to book their visits in advance, using online ticketing or by phone. More info.
~MHS Store: Wednesday through Saturday, 10:00 am – 5:30 pm. Limited to 5 shoppers at one time. If the quota has been met, incoming customers must wait outside until there is room to enter. Shoppers can access and order from our online store anytime. More info.
~Longfellow Garden: Beautifully landscaped, with meandering paths throughout, it is free and open to the public from May through October, 10am-5pm.
~Wadsworth-Longfellow House: CLOSED until further notice.
~Public Programming: ONLINE the remainder of 2020. Events and programs are booked as online offerings exclusively for the foreseeable future. MHS will reevaluate this policy for 2021 events. More info.
~Maine Memory Network: ONLINE 24/7. This free, collaborative digital platform brings Maine history directly to you, with access to our major Bicentennial exhibition, educational and history resources, plus thousands of historical items contributed by 270+ organizations: More info.

Link to the Maine Historical Society: https://www.mainehistory.org