Providence Preservation Society
24 Meeting Street
Providence, Rhode Island 02903
2023 Festival of Historic Houses
Tour Tickets Must Be Purchased in Advance
On Saturday, June 10, 2023 the Providence Preservation Society presents the 41st Festival of Historic Houses. This year, the self-guided tour will explore homes and gardens in Providence's Elmwood neighborhood between Congress and Adelaide Avenues. In addition to the tours of this historic neighborhood, a special Preview Party will take place at the stunning 1878 John S. Tripp House on June 7, and a slate of Festival programming will be offered in May and early June.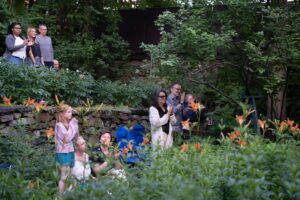 Music in the Garden – Hawthorne
Select Wednesdays May through September, 2023
Bring a lawn chair and enjoy Music in the Garden, a series of summer early-evening concerts in an historic Colonial Revival garden, presented in partnership with the Mile of History Association. Tucked behind the John Carter House (also known as the Shakespeare's Head building) this series of intimate, hour-long performances will help support the restoration of this charming pocket park.
Music in the Garden takes place on select Wednesdays every month from May through September and features an eclectic mix ranging from steel pan and jazz to bluegrass and soul.
Don't miss our full slate of Music in the Garden concerts:
May 24, 2023 – Hawthorne (Indie-Americana)- SOLD OUT
June 21, 2023 – Becky Bass (Caribbean soul and steel pan)
July 19, 2023 – Greystone Rail (bluegrass)
August 16, 2023 – Soul Circle (a collaborative of Mixed Magic Theater musicians)
September 13, 2023 – Phil Sanborn Jazz trio (jazz classics)
About the Garden
The 1938 Colonial Revival-style garden sits behind the John Carter House, which was built in 1772. In addition to serving as the home of John and Amey Carter and their twelve children, the building also accommodated Carter's various businesses, including the Providence Gazette, a book and stationery shop, and the local post office. These literary pursuits were advertised on a sign hung outside the building depicting a bust of William Shakespeare. The current garden, designed by landscape architect James Graham, was added over 150 years later following the 1938 hurricane.
Bite-Sized Preservation series online: https://www.youtube.com/channel/UCzDAbN60lkG9wwGmRxRbTTQ
The Providence Preservation Society (PPS) was established in 1956 to respond to the proposed demolition of a number of 18th- and early 19th-century houses on College Hill. Unlike many historic preservation organizations that were formed to preserve a particular building, PPS has always been an advocate for neighborhood revitalization. From that small neighborhood group, PPS has grown into a multifaceted citywide preservation and planning organization.
For the Providence Preservation Society link: http://ppsri.org
Image Credits: ppsri.org unless otherwise noted