Block Island Tourism Council
40 Center Road
Block Island, Rhode Island 02807
Getting to Block Island: https://www.blockislandinfo.com/getting-here/harbors-and-boating
Block Island Farmers' Market
Rain or shine, the Market is held every Wednesday and Saturday morning at Legion Park through the first weekend in October.
And If a drizzle of local honey on a fresh-baked scone is your idea of heaven, you can find heaven on earth on Wednesday and Saturday mornings from 9 to 11:30am at the Block Island Farmers' Market. (Word to the wise, come early before the scone lady sells out.)
With its many fruits and veggies, artisan cheese spreads, salsas, shellfish and more, the Market is a veritable festival for foodies. But wait, there's more. Not only are there plenty of edibles to delight your taste buds, there are also arts and crafts, music, kids, dogs and a laid-back community atmosphere that makes you smile just being there. Image Credit: https://www.bifarmersmarket.com
Passport to the Arts Celebration
Please join the Block Island Arts Council on Saturday October 7th, 2023 from 9:00am to 7:00pm for an inaugural, island-wide Open Studio event. A family-friendly, interactive day of arts exploration which will allow guests to meet dozens of Block Island artists from many different genres in over 30 venues across the island.
Passport to the Arts is a fun-filled, rain or shine arts celebration, which is free to all and will take our guests on an adventurous trip to a multitude of arts activities. Visitors will collect Passport Stamps at each venue they visit during the day. At the end of the day visitors will receive a free raffle ticket for every stamp they've collected. The raffle will be drawn on September 24, 2023 and winners will be contacted. There will be a limit of 2 winning tickets per family in an effort to share the fun with everyone.
Participants can collect their schedule and map for the event and their Passports outside the Block Island Chamber of Commerce across from the ferry from 9:00am until 1:00pm, at the Farmer's Market at Legion Park from 9:00am to 11:30am and at Champlin's Resort's Tent from 9:00am until 1:00pm.
At the end of your day, your passport stamps will be counted and raffle tickets distributed at Champlin's until 4:30pm, at the Chamber of Commerce until 5:00pm and at the Spring Street Gallery until 7:00pm.
Block Island Self Guided Bike Tour
Any time is the perfect time of year to explore Block Island. And, our Self-Guided Bike Tour helps you do just that! The tour can also be done on foot, by car or moped.
The bike tour consists of 12 "stations", each positioned at an island highlight, and each marked with a circular signpost with a QR code in the center. Shoot the QR code (you have to install a reader, free at your mobile device app store) and you get minute-long videos at each station, which tell you a little about what you're seeing or the history of where you're standing. The full route is about 16 miles, and stretches up to the North Lighthouse, which is as far from downtown as you can get on the 7 x 3 mile island. Families may want to opt for the shorter 7.5 mile loop which circles back to town. The tour ends at Water Street which is the perfect last stop to reward yourself with lunch or dinner or even get in some early holiday shopping.
If you don't want to take the cell phone, wallet-size maps of the route (with short descriptions of the stations) are available free at the Welcome Center (off Water Street across from the ferry docks) and from most of the bike rental places in town.
You don't need a bike to do the bike tour, either! It works just as well walking, by moped or by car!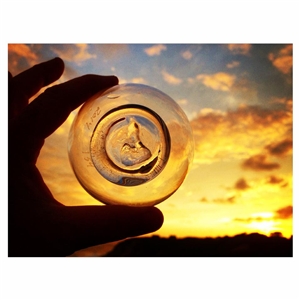 Glass Float Project
*All season long* If you've always enjoyed scavenger hunts for colorful eggs around Easter time, we've upped the ante with an island-wide search for orbs of an even more precious kind with the Glass Float Project.
This will be the 11th year for the search, which begins the first weekend in June and continues until all the floats have been found. 550 glass floats (orbs about the size of an orange) will lay hidden on the island's beaches and Greenway trails – most them clear glass, but a special few (23 to be exact, since it's 2023) in prettier colors, plus one made of gold leaf. Each of these numbered floats is handcrafted, numbered and stamped by glass artist Eben Horton (www.ebenhortonglass.com), who came up with the idea for the interactive public art installation.
It's a finder's keepers activity – you're welcome to keep any float you find, but there are two requests: 1) only one float per seeker and (2) you register any floats you find with the Block Island Tourism Council (www.blockislandinfo.com) so they can keep track.
If you go searching, a couple of hints: floats will be hidden on the beaches above the high tide mark (but never in the dunes, or up the side of bluffs) and on the Greenway Trails (within one foot of either side of the trail). Maps of the island can be found at the Welcome Center across from the ferry docks. Happy hunting!
This project is sustained through donations to artist Eben Horton. If you enjoy the project, and you can, please donate to keep this project going.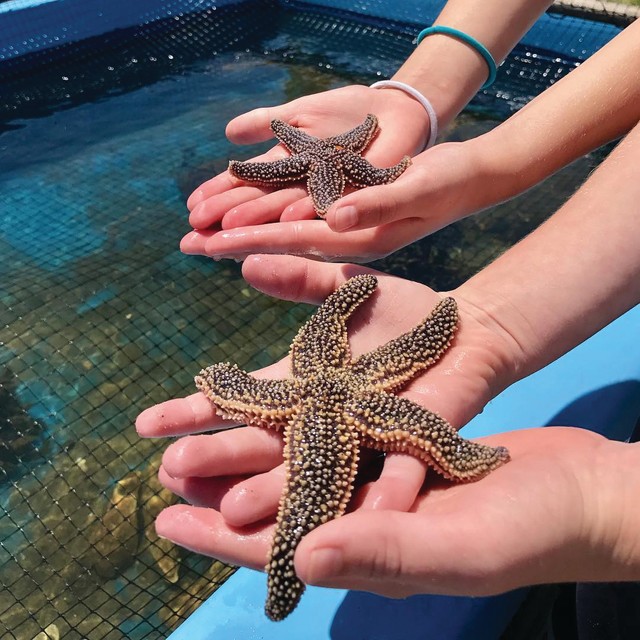 Block Island Maritime Institute
Come join us and visit our indoor and outdoor aquariums to explore the marine life near and around Block Island; meet our summer staff; play some games; do a little crabbing; or relax in our adirondacks and do a little bird watching. All this while enjoying free ice cream, cookies and lemonade!
Walking Tour Map: http://www.blockislandinfo.com/maps/walking-tour-map
North Light/Cow Cove – One of the island's best bets, with pretty coastal views and the historic North Light.
Rodman's Hollow – A variety of natural settings–from wooded to open, from towering bluffs to a pristine beach.
Monhegan Bluffs – 200-foot clay cliffs that offer one of the most dramatic views of the Atlantic in all of Rhode Island
Southeast Light – An architecturally distinctive gem that sits atop Mohegan Bluffs offering amazing views of the Atlantic.
Clayhead Trail and the Maze – 190-acres featuring a trail, a secluded beach and "the maze", where you can wander to your heart's content.
Hodge Preserve – A picturesque 25-acre parcel featuring quaint meadows and great spots to view migratory songbirds.
Link to the website: http://www.blockislandinfo.com
Image Credits: blockislandinfo.com unless otherwise noted