Block Island Tourism Council
40 Center Road
Block Island, Rhode Island 02807
Getting to Block Island: https://www.blockislandinfo.com/getting-here/harbors-and-boating
Fall on Block Island
Now through November 30, 2021
Everyone looks forward to summers on Block Island, but if you haven't gone in the off-season, now is the time. The island's vast undeveloped acreage is blissfully serene, with beaches so wide-open, only the waves will speak to you. Rare migratory birds stop by for a visit, and sunsets and night sky viewing seem better than ever when viewed through the crisp fall air. The cooler weather is also perfect for riding the roads as you follow the Block Island Bicycle Tour, or scavenging the island for still-to-be-discovered floats from the Glass Float Project. And, if you're a painter or writer, there's nothing like the solace.
Block Island Self Guided Bike Tour
Any time is the perfect time of year to explore Block Island. And, our Self-Guided Bike Tour helps you do just that! The tour can also be done on foot, by car or moped.
The bike tour consists of 12 "stations", each positioned at an island highlight, and each marked with a circular signpost with a QR code in the center. Shoot the QR code (you have to install a reader, free at your mobile device app store) and you get minute-long videos at each station, which tell you a little about what you're seeing or the history of where you're standing. The full route is about 16 miles, and stretches up to the North Lighthouse, which is as far from downtown as you can get on the 7 x 3 mile island. Families may want to opt for the shorter 7.5 mile loop which circles back to town. The tour ends at Water Street which is the perfect last stop to reward yourself with lunch or dinner or even get in some early holiday shopping.
If you don't want to take the cell phone, wallet-size maps of the route (with short descriptions of the stations) are available free at the Welcome Center (off Water Street across from the ferry docks) and from most of the bike rental places in town.
You don't need a bike to do the bike tour, either! It works just as well walking, by moped or by car!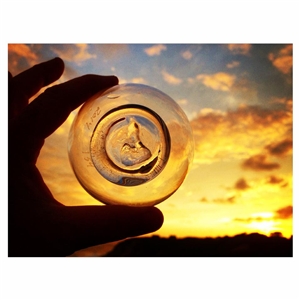 Glass Float Project
*All season long* If you've always enjoyed scavenger hunts for colorful eggs around Easter time, we've upped the ante with an island-wide search for orbs of an even more precious kind with the Glass Float Project.
This will be the ninth year for the search and this year the hunt will begin July 11th. The floats go out throughout the year and the hunt is continuous. 550 glass floats (orbs about the size of an orange) will lay hidden on the island's beaches and Greenway trails – most them clear glass, but a special few (20 to be exact, since it's 2020) in beautiful colors and patterns. Each of these floats is handcrafted, numbered and stamped with a 'Block Island' by glass artist Eben Horton (www.ebenhortonglass.com), who came up with the idea for the interactive public art installation.
It's a finder's keepers activity – you're welcome to keep any float you find, but there are two requests: 1) only one float per seeker per year and (2) you register any floats you find with the Block Island Tourism Council (www.blockislandinfo.com) so they can keep track.
If you go searching, a couple of hints: floats will be hidden on the beaches above the high tide mark (but never in the dunes, or up the side of bluffs) and on the Greenway Trails (watch out for poison ivy and be respectful of private property!). Maps of the island can be found at the Welcome Center across from the ferry docks. Happy hunting!
TO REGISTER A FLOAT PLEASE GO TO: www.blockislandinfo.com/glass-float-project
This project is sustained through donations to artist Eben Horton. If you enjoy the project, and you can, please donate to keep this project going.
Walking Tour Map: http://www.blockislandinfo.com/maps/walking-tour-map
North Light/Cow Cove – One of the island's best bets, with pretty coastal views and the historic North Light.
Rodman's Hollow – A variety of natural settings–from wooded to open, from towering bluffs to a pristine beach.
Monhegan Bluffs – 200-foot clay cliffs that offer one of the most dramatic views of the Atlantic in all of Rhode Island
Southeast Light – An architecturally distinctive gem that sits atop Mohegan Bluffs offering amazing views of the Atlantic.
Clayhead Trail and the Maze – 190-acres featuring a trail, a secluded beach and "the maze", where you can wander to your heart's content.
Hodge Preserve – A picturesque 25-acre parcel featuring quaint meadows and great spots to view migratory songbirds.
Link to the website: http://www.blockislandinfo.com
Image Credits: blcokislandinfo.com unless otherwise noted