Old House Myth # 58:
Denizens of Colonial-era homes kept oriental rugs
on their highly polished, wide-pine floors.
Even after 30 years of the preservation movement in this country, many homeowners (and museums) accept the previous statement as gospel. In truth, those heart pine floors, especially in the best parlor, were never meant to see the light of day; they were intended to be covered with wall-to-wall carpeting (yes, wall-to-wall, just like the 1950s Ranch in which you grew up.)
Oriental rugs were exceedingly rare and expensive on these shores and graced only the occasional tabletop in wealthy homes until the 1870s, when the advent of the Aesthetic Movement and its fascination with art objects from the Middle East brought them within reach of the middle class. Concurrently, polished hardwood floors embellished with area rugs became popular, although wall-to-wall installations did not fully fade until the very end of the 19th century.
Broadloom carpet did not appear until the 20th century; until then, carpeting was woven in narrow strips, usually 27 inches wide and then hand-sewn together to create a carpet of whatever size was required. Borders were available and were painstakingly mitered around corners and hearths. This laborious process is still lovingly practiced by a precious few "carpet mechanics" around the country; they tend to travel far and near to the job site, racking up tens of thousands of miles a year working at museums, historic sites and private residences that seek truly authentic floorcoverings.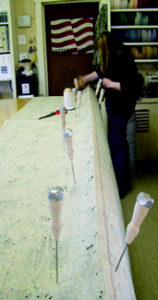 Two such craftspersons are David and Charlene Hunt, owners of the Vermont Custom Rug Company of Bristol, VT. The Hunts have worked in countless numbers of museums and private homes plying their proudly archaic trade. Of the many services they provide, period installations are one of their favorites. David enthusiastically states "We really enjoy the challenge of honoring time-tested techniques and remaining true to centuries-old craft of fitted floor coverings, known today as wall-to-wall."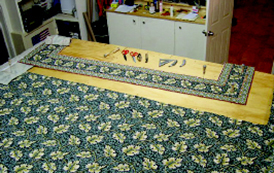 A strict traditionalist, David insists on hand-sewing the seams of the carpet, and steers clients away the more modern heat-seaming, that inevitably fails with time on this type of product. He notes, "Despite all the technological advancements in the care and handling of Wilton carpets, hand-sewn seams remain the 'only' durable method of joining panels and sections."
While keeping one foot firmly planted in the past, the Hunts point the other towards the future; "We rely on the old Yankee rule of logic and reasoning, 'keep the old as long as it's good, and take the new only when it's better.' This really applies to period carpets, there is still no better quality carpet then a Wilton or Brussels carpet." These boldly figured, superior-grade goods are still manufactured in their original patterns and colors in England and America, and are frequently the floorcovering of choice for house museums and state capitols, as well as appealing to the connoisseur who craves historical accuracy.
Far from being a Luddite, David adds, "There have been some very real advancements in the installation arena, and it behooves us to take advantage of some of them. For instance, carpet cushion or pad. Even though the use of cushion did not become widely accepted until the mid 1920s, it is an advancement that not only tremendously extends the performance, cleanability and life of the carpet. It also greatly enhances the comfort and acoustical characteristics of any floorcovering."
Hunt continues, "The same is true for carpet tacks. For decades, carpets were secured to the floorboards with extremely sharp tacks. Not only were these tacks visible from the surface, they would often work loose, creating a real safety hazard. It was for this reason, some sixty years ago, that the practice of using pre-nailed gripper strips, known as 'tack-less', became the preferred installation method for safely securing nearly all carpets."
For those, usually museums, who wish to maintain the utmost in authenticity, Hunt is glad to oblige. "There are times, and certain places, where we will still 'turn and tack' a carpet for a true period look and feel, especially in doorways, along banisters, around fireplaces or other focal points in the space. However, by and large, the use of the 'tack-less' strip remains the best avenue for stretching and anchoring a carpet, while meeting the essential physical requirements of today's world."
"Today's carpets, although woven to identical s tandards of the period, are subjected to things that could never have been imagined a hundred and fifty years earlier." David concludes, "They must endure things like air conditioning vents, electric floor outlets, computers wires, vacuum cleaners, and group tours. Our job is to find the balance between meeting the essential service needs of today, without loosing the intrinsic qualities and character of the period."
David Hunt • Vermont Custom Rug Company • 802-453-7160
Our staff features writer, Dan Cooper has been working on old houses for over 20 years, and also writes for Old House Interiors, Period Homes, Cottages and Bungalows amongst other magazines on the subject of architecture, antiques and design.