Aside from white-steepled churches and village greens, probably nothing characterizes New England as much as the Cape Cod house. Low to the ground, of one story surmounted by an imposing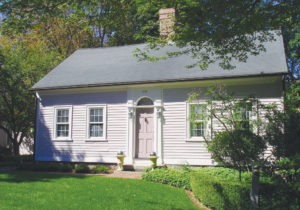 roof with a massive center chimney, the Cape may be small or large, informal and rambling with weathered wood shingled walls or bright white with a formal symmetrical facade and delicate decorative details. The defining features are the one-story height, the gable (or gambrel) roof parallel to the street, and the entrance centered on the primary facade. Most frequently there are a pair of windows on each side of the door, but beyond this the variations are virtually endless.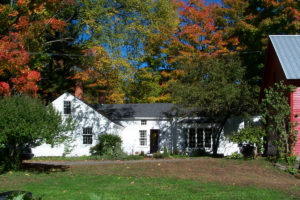 The term "Cape Cod" was first coined by Timothy Dwight, president of Harvard College and New England's first travel commentator. He visited Cape Cod in 1800 and described the small and unadorned dwellings he found there and called them "Cape Cod houses." The name has stuck. The one story cottage was one of several variations in house design that was developed in England during their housing revolution, a massive rebuilding and improvement of rural dwellings that began in the 15th century made possible by rising incomes and the adaptation of the fireplace and chimney in even the most modest houses. The English developed houses of one and two stories, one or two rooms in depth, and with one, two or more primary rooms with a center stair hall. Out of this variety, the first settlers in New England, pressed for resources and facing a harsh climate, chose to build the one story house, but in a variety of room arrangements. The Cape form was familiar, sturdy, inexpensive and used the least amount of timber to enclose the largest amount of space.
During the English housing revolution, which coincided with the English Renaissance, trees were cut in great numbers not only for new and more substantial houses but also for the Royal Navy which was gaining world dominance. This scarcity led to the invention of the hand-hewn oak house frame of heavy posts at the corners and midpoints of the walls topped by horizontal girts (to carry a second story) or plates (upon which the roof rafters were laid). These posts and beams were fitted together with mortise and tenon joints locked with wooden pegs. Light weight studs ran between the sills and first (or plates) and carried the external clapboards and interior lath and plaster.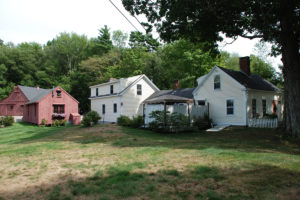 This framing system served the English in England and in America until the middle of the nineteenth century and was used in all types of buildings – mills, meetinghouses, etc., as well as houses. The heavy timber frame when used in a relatively small building, such as a Cape, resulted in a very strong structure.
In New England, the early Cape houses, virtually all those built in the colonial period, are built with the large hardwood frame but the walls are not studded. Instead, heavy planks of 1½" thickness by 14 to 20" wide are secured vertically between the sills and plates. Clapboards or wood shingles, are nailed to the exterior, and lath and plaster to the interior surfaces. It is believed that the Pilgrims may have learned this "plank-on-frame" construction from the Dutch during their years in Holland before coming to Plymouth in 1620 because the technique was not used in England in the 17th century. Plank-on-frame construction can be identified because window frames project beyond the walls on the exterior. Plank walls are about 3" thick while stud walls are about 5½" thick.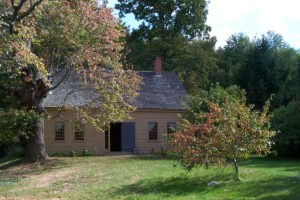 Cape Cod was settled early, beginning in Sandwich (1637), and Barnstable, Yarmouth, Dennis and Brewster were all established in the 17th century. Many early, unpainted shingled capes can be seen in these historically rich towns. But the cape form is also found through all of Plymouth county and north toward Boston–Hingham has many old capes–and they are spread through Rhode Island and Connecticut's south shore. Inland, many are found in Middlesex and southern Worcester County. Capes were almost the exclusive form of housing on colonial Long Island which was settled from New England. Capes built in shoreline areas are shingled; in the interior, The Steinitz study shows that one story houses in Massachusetts outnumbered double-pile, two story houses by a ratio of seven to one in the study area and that the distribution of one and two story house types in New England villages and small towns that we see today does not represent what was built originally. Time's passage has been much harder on the smaller and more rural houses which would include capes than on two story houses built nearer town centers.
I would suggest that owners, buyers, remodelers and preservationists have, over the years, preferred to invest their efforts on larger and more stylish houses and have ignored the small and humble ones. Many do survive as subordinate wings of larger and later structures, too. But capes are not about to become extinct. They have been built everywhere during this century and are a favorite of suburban developers. Important colonial revival architects such as Royal Barry Wills did much to popularize the cape in the years following World War II, and good custom designed examples have been featured regularly in house magazines ever since. And the cape form was adapted by the Levitt Brothers for their vast tracts of suburban VHA housing in Levittown, Nassau County, New York, and in still larger developments elsewhere. Ironically, a few unaltered examples of these houses, now approaching 50 years old, are being preserved as historic in their own right. The utility of the Cape Cod house form has been proven for over 400 years.
Nick Langhart, has taught American architectural history for ten years in central New England colleges –and in New York State previously. He holds an MA in historic preservation from Cornell University. Nick is also the author of our Antique Homes Guide to Styles.