"Homeowners really have two choices," notes Alex Pifer of The Seraph, the Sturbridge, Massachusetts, company that offers its own historic paint line. "One is to re-create how the paint looked when it first went on 200 years ago. The other is to make it look like it's lived there for 200 years."
When considering what paint to use, homeowners have several options. The first is to simply choose what you like and forget being true to the period of the house. At the opposite end of the decision spectrum is the choice to invest in historic paint analysis and replicate the home's original colors. Another alternative is to base a color choice on hues used in a house museum, provided it has done paint research to ensure the accuracy of its choices and choices compare socio-economically with your house and its owners.
Many older paint lines emphasize grayed-down colors that represent paint that has lived for 200 years. These colors first became popular during the Colonial Revival period in about 1885, and they were based upon what curators and homeowners saw with the naked eye. Because 18th and early 19th century paints were mixed with linseed oil, and because linseed oil yellows and darkens over time when not exposed to light, olive greens that we think of as being historic might have been a true "optical green" achieved by mixing black and ochre yellow—or a bright Prussian blue (the first synthetic pigment, discovered in Germany in about 1710 and wildly popular in the Federal period). In the end, the choice is the homeowner's. Unlike other changes to a home's interior, such as the removal of valuable period woodwork and paneling, paint colors can easily be changed in the future.
Some paint makers use documented museum sources for their colors. For instance, California Paints developed its historic line in collaboration with

Historic New England, the regional museum, and its dealers can usually provide information on colors associated with Georgian, Federal, Greek Revival, and Victorian buildings. Valspar's American Tradition® paint charts, developed with the National Trust for Historic Preservation, identify which property, and therefore which era, colors are from. Old Village Paints, the first to reproduce documented Williamsburg colors, specifies the object in the Abby Aldrich Rockefeller collection replicated by each of its colors. Martin Seynour Paints also worked with with Colonial Williamsburg.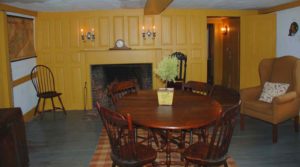 Another consideration in paint choice is the type of finish. Ready-mixed oil paints were not available until the mid-1860s. Before that, all paints were mixed by hand, usually on the site where the painting was done. Historic pigments, which provide the color and make the paint opaque, were ground with mortar and pestle, resulting in particles of uneven size and shape. These were then mulled by hand with a binder, usually linseed oil (derived from flax seeds), but sometimes hide glue (in distempers), a drying agent, and a solvent: turpentine (distilled from larch trees), milk in casein paints (used only after 1800), water in distempers. Hand mulling produced an uneven dispersion of pigment, so early paints had less "hiding" ability than modern paints, and the quality of their finishes was more variegated. "Paints were not thickly made in the eighteenth and early nineteenth centuries. They went on more like stains. Priming wasn't done until the nineteenth century," Will Cady Perkins, a paint restoration specialist based in Ispwich, Massachusetts, says. "Putting a new layer of paint on a surface that already carries many layers doesn't begin to approximate the texture of those early finishes."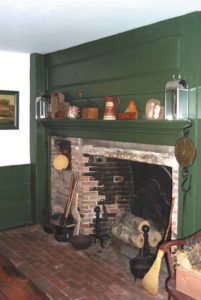 Rather than priming, early paint treatments often called for a base color over-painted with a tinted shellac. Perkins describes an eighteenth-century treatment that produced a vivid turquoise by layering a copper-derived verdigris glaze over Prussian blue, creating a rich depth of surface impossible to replicate with a modern single-paint finish. A color can still be created that way, but today, tinted glazes are more often used to "age" new paint, as they historically were in grain painting.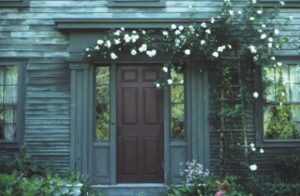 Hand-mulled linseed oil paints and pigments can be ordered from Doug Vickers (Canada), Keith Edwards (England), Williamsburg Artist Materials, and Kremer Pigments (New York State). If you choose to hand-mull paint, do it outdoors for the best ventilation. Historic paints were mixed using linseed-oil, which has a notoriously long drying time; shorten this by increasing the proportion of dryer in the paint. Err on the side of safety, as white lead and certain pigments, notably vermillion, Paris green, and Naples yellow are toxic, lead white cannot legally be used in house paint. Paint manufacturers replicate early colors using safe, long lasting modern pigments. Dutch calcimine, a distemper historically used on ceilings, is still available in specialty stores such as Johnson's Paint, in Boston. For walls, paints by Old Village and Fallon & Ball approximate the velvet finish of period distempers. The Old Fashioned Milk Paint Company in Massachusetts sells true milk paint.