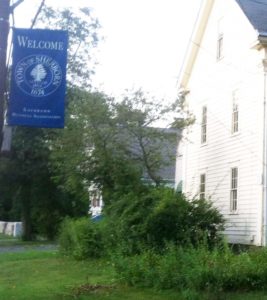 History sits at the intersection of Routes 16 and 27 in the town center here.
The circa-1782 Dowse-Mann House at 30 North Main St. originally was built for Ebenezer Dowse, who came to Sherborn with his family one step ahead of the British who burned their home in Charlestown during the Battle of Bunker Hill.
"This may be one of my favorite houses in town," Carol McGarry, chair of the Sherborn Historical Commission, said of the Greek Revival-style home across the street from the former Sherborn Inn and the C&L Frosty ice cream parlor in the heart of the abbreviated commercial district.
"The reason is that it looks just about exactly the way it would have looked a hundred years ago," she said, citing the six-over-six window panes — each "reflecting things a little differently" — as well as the original doorway and carriage house. The current owner grew up in the house, and has "resisted the typical pressures to put in vinyl windows and vinyl siding," Ms. McGarry said.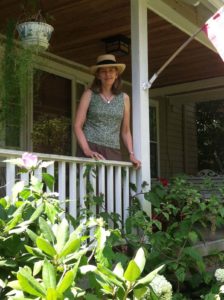 "About a year ago we offered plaques to the historic homeowners, and his was the first plaque that went up in town," she said.
On a sunny Saturday morning Ms. McGarry was offering a guest a guided tour of some of her favorite Sherborn historic houses. There were many from which to choose. Indeed, history stretches the length of Washington and Main Streets and beyond in this town of 4,100, about 18 miles southwest of Boston, where preservation is a byword.
More than 90 properties — including houses and barns, burying grounds and monuments — in Sherborn are listed on the National Register of Historic Places, and 15 buildings are included in the local historic district downtown. In all, more than 200 historic properties throughout town have been identified as historic resources worthy of preservation, according to Ms. McGarry.  "In Sherborn, we are lucky to have a wealth of historic houses, cemeteries, farms and landscapes," said Ms. McGarry, who attributes this to a combination of factors.
In the 19th century Sherborn was a rural town of farms and orchards with a few small home industries — one local cider mill billed itself as producing the "Champagne of ciders, she said. The town wasn't on a major railroad or highway that would accelerate commercial development downtown, and didn't suburbanize in the 1950s and '60s as rapidly as towns closer to Route 128, which saved many older houses from demolition.
In the early 20th century, wealthy families like the Saltonstalls moved to estate farms along Farm Road by the Charles River, preserving large tracts of open land. The town adopted zoning that restricted downtown development and set minimum acreage requirements for homes. With no municipal water and sewer hookups, all houses in town are on wells and septic systems. The amount of wetlands in town, bounded by the Charles and the Sudbury River watershed, also limited new housing development. Historic districts established in the 1970s and '80s have reflected a widespread consensus to steward the town's legacy, she said.
"There are a lot of people in town who care about the history, who care about the open space and preserving the rural character of town," Ms. McGarry said.
Ms. McGarry, who lives in a circa 1904 Craftsman-style bungalow originally built as a summer house for a Wellesley College professor, invited Antique Homes to join her on a tour of some of her favorite historic properties in town.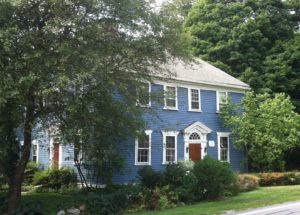 The Morse-Tay-Leland-Hawes House, a classic Georgian home at 266 Western Avenue
Right next door, the Morse-Tay-Leland-Hawes House at 266 Western Ave. dates to 1700, and stayed in the same family until the 20th century. By the 1970s, the remaining member of the family that owned the house had grown old and moved away, and the house, abandoned, had fallen into disrepair. "People would come here on Halloween because it was the Haunted House," said Ms. McGarry. "Luckily somebody bought the house and started the process of restoring it. When I moved in 20 years ago, the owners had done a beautiful job of restoration and had really gotten it up to the point it is today. What I love about it is, this is an example of a house that was basically rescued, by homeowners who wanted to live in Sherborn and loved old houses and really took wonderful care of it. They brought it back."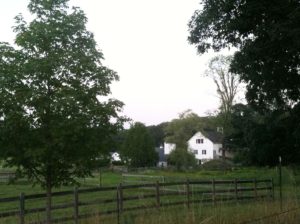 Joshua Morse Farm, an early Colonial home located at 177 Farm Road
The Joshua Morse Farm, built in 1759 and remodeled in 1902, sits on an estate of more than 165 acres along the Charles River where cattle graze and orchards and towering elms add to the grace of sweeping grounds bordered by New England stone walls. The farm was called "Charlescote" when it was the home of Boston banker Richard Saltonstall, who moved here with wife Mary and family in the 1920s, and whose brother, US Sen. Leverett Saltonstall, resided on a farm on the opposite bank of the Charles on Smith Street in Dover. The Sherborn Saltonstalls were great benefactors.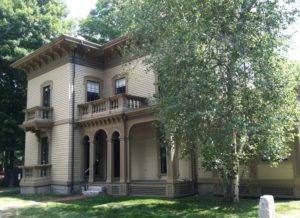 George H. Clark House, an Italianate home at 18 North Main Street 
In the center of town, the George H. Clark House, at 18 North Main St., an Italianate Victorian built circa 1853 is the only residence of its type in town and, in the view of the authors of a 1981 town architectural survey, "as fine an example of a frame Italian villa as can be found anywhere in New England." The property was restored in recent years by local developer George Fiske who not only renovated it but volunteered to have it added to the local historic district in 2006. The building today houses the Proctor Financial money management firm, with an office complex in rear buildings. "It's a nice example of a house that fell into disrepair, and that an individual saw an opportunity to restore," Ms. McGarry said. "Located in the downtown commercial district, it was put to a commercial use that at the same time preserves the historic aspects of the property."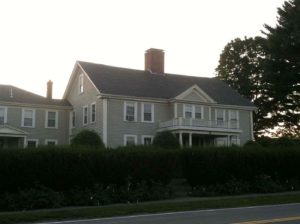 Whitney-Paul Tavern, an early Colonial Tavern at 41 North Main Street
The oldest building in the town center is the Whitney-Paul Tavern, which dates to 1716. "Back in the day it was used as a stagecoach stop and an inn," said Ms. McGarry. "I think this house is great because it's kind of a gateway to the town. When you come up Route 16, you're facing this – what a beautiful sight. When you come up the other way (Route 27) you've gone past a bunch of beautiful old houses and this is the last before you hit the commercial district."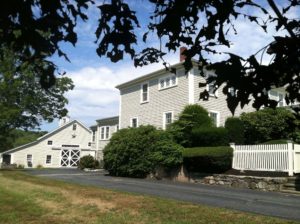 She added: "I like that it's still here." She said a number of proposals have been advanced in recent years to develop the property, including plans for mixed condominium and commercial developments and even for a supermarket. The town has put in a special zoning that allows for a combination of residential and commercial development, with planning board approval. "The owner has brought forward to town meeting different ideas for how to develop it, and some would have involved demolishing the house," she said. "I'm just thankful the town as a whole has voted to preserve this historic house. I hope that the homeowner and the town will figure out a way to put some kind of commercial development that is at the scale for our village center. I think that would be the best possible outcome."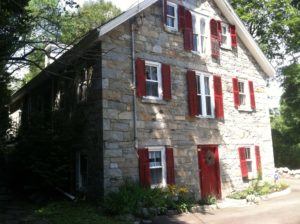 "Stone House" at 53-55 North Main Street 
What she calls "The Stone House" is an old tool factory, now a private home, at 53-55 North Main Street. "There were these very small-scale industries in Sherborn in the past," she said. "This is one of the town's very few stone structures, built in 1796 as Captain Harvey Partridge's edge-tool factory.  His brother had a blacksmith shop next door. You can go to the historical society and see some of the tools he produced. It was converted to private residence in 1860. This as part of the old manufacturing district between here and Dowse's corner. Down at Dowse's Corner, they were making buggy whips, and also had shoe manufacturing there. I think it's a beautiful house. I love the way the current owners painted the shutter and the door that's bright red. It's a unique house that looks really cozy – another house that's been lovingly cared for by the owners. "