Curb Appeal is a series of not-so-scholarly musings on historic architecture as seen from the street during the author's ramblings around the Northeast.
It's safe to say that anyone looking at this story in Antique Homes Magazine is interested in old houses: whether you're in the market for one or simply a voyeur, vintage dwellings fascinate this readership, and most likely, you're familiar with the different styles of historic architecture, at least to some degree.
While we all love pure, unaltered examples of Georgians, Mansards and Queen Annes, it's important to remember that old houses evolved over time; they were not intended to remain as-built for subsequent generations to study, and instead were often modified by their owners as fashion or functional needs required. Wings were added, Capes turned into Saltboxes, and doors and windows were swapped out because they were worn out or simply yielding to a new design. In ones travels, it becomes a delightful hobby to examine an old house in passing and then try to discern what changes were made, and when.  What follows is but a very few of the potential scenarios.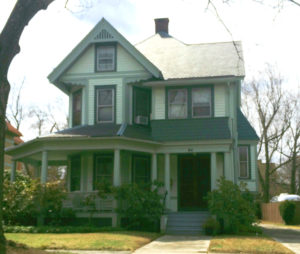 Photo 1:  The Porch Update
Here we see a Victorian house c.1890 in a Springfield, MA neighborhood.  Most of the houses here were built by the McKnight brothers in 1880-1900, and this home was undoubtedly built with more of a Queen Anne style porch post featuring 6"wide ring-and-vase turnings. Then, sometime between 1900-1920, the present, thick Neo-Classical columns were installed.  The upstairs porch was also closed in with windows at some point as well, as McKnight houses had open porches.  Incidentally, the sweeping "wraparound" porch dates from the very late 19th century, and was a frequent addition to existing earlier homes, especially Mansards and Greek Revivals.
Photo 2: Colonial-Revival-ing
It was very fashionable after the American Centennial to update the appearance of "old fashioned" houses.  Here is an example of a late 18th century
house that may well have had two, but certainly one structural updates.  It appears to have been built as a very simple early Federal-style home and then had a Colonial Revival dormer window with fanlight added around the turn of the 19th century. But, I'm guessing that the inset portico and Palladian window could have been added in the early decades of the 19th century in the then current Greek Revival style. (Or, the Palladian could have been part of the Colonial Revival).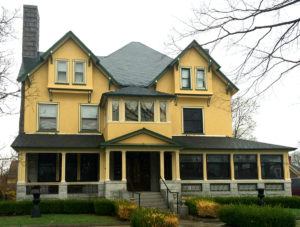 Photo 3 & 4: The Re-Model
Photo 3 is a massive Victorian with stucco walls, a robust granite-columned porch and granite chimney. Note that the porches on both floors have been enclosed. The brusque styling is that of the late 1910s-early 1920s that reflects the more modern massing of this era. Decades ago, I saw a photograph of the original elevation, and I recall there might have been only one front facing gable.
Directly across the street, pictured in Photo 4, is a Queen Anne house somewhat similar to the appearance of the house in Photo 3 when it was built in the late Victorian era. It originally featured open porches and clapboard and decorative shingles.  Incidentally, many the slate roofs in this neighborhood are themselves early 20th century additions; according to a local historian, they were built with wood shingles and the fire code changed, dictating a less flammable material.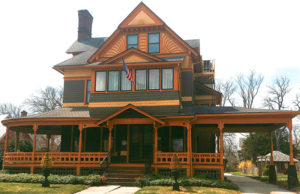 An even more extreme version of the Re-Model is when a house is completely revamped.  I wrote a piece for another publication about a sprawling Victorian in Belchertown, Massachusetts center with a fanciful paint job. I've driven past it for years, and something about the roof-line always struck me as "funny"; its pitch seemed inconsistent with a Queen Anne, as it was very shallow and elongated. When I was fortunate enough to meet the lovely homeowner on assignment, the first thing I asked her was "Was your home built as a Federal?" and indeed, I was correct. It was moved back from  the street and transformed completely in the 1880s.  The interior was gutted, and the fanciest Eastlake staircase was installed. All of the mantles, hardware, wallpaper, etc.were replaced with high-style Aesthetic Movement decor.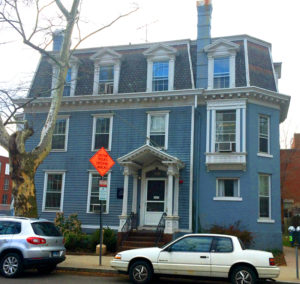 Photo 5: The Mystery
Photo 5 is of a Mansard in New Haven, Connectictut. Three-quarters of the house are covered in clapboard, while there is a wing on the right made of brick. The cornices match on both sections, but there is a fancy oriel window (with a strange little one window beneath on the brick (I assume) addition, and it is angled. Note that the chimneys are more of the panel-brick style of the 1880s, while the ornamentation of the main house is Neo-Classical. Perhaps an 1880s wing?  I leave the mystery and its solution to you and any knowledgeable party.
Dan Cooper is a well-known author, and has published over a thousand articles on the subjects of antiques, architecture, preservation and historic interior design. His first book, New Classic American Houses, was published by The Vendome Press. Dan is also President and CEO of Cooper Lace, has designed and sold historic lace curtains for twenty four years, providing them to private homes, museums and film sets. Dan is recognized as a leading authority on the subject of historic carpeting.