I grew up in the 1970s, in a suburban Garrison Colonial devoid of any trapping of pre-Nixonian history, save for a brass mortar and pestle that some long-forgotten relative had schlepped across Russia. (Why this of all things? Was there no family jewelry?) As proper suburbanites, my family never entered our house through the front door; we used the entry from the garage. In the back hallway, there was an oval, braided rug rendered in shades of brown and harvest gold that served as a sort of door mat. It remained there during the bulk of my childhood until our dog unraveled the thing at its outermost point and slowly devoured the braids as if they were a woolen kielbasa.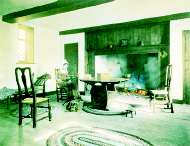 I hadn't given this ill-fated floorcovering another moment's thought until recently, when I was looking at an old Wallace Nutting print and saw several of them scattered about a faux-Colonial interior. Nutting had used braided rugs as props in recreating his vision of the 18th century. I, on the other hand, could only be reminded of Woofy's choking noises as partially digested carpet fragments were deposited evenly around the first floor of our home.
Now that I understood the connection between our mud-room and Early America, I was curious about the story behind braided rugs. Michelle Stenson, owner of American Folk Art & Craft Supply and located in Abington, Massachusetts, informed me that "In the late 1700s, Americans wanted to cover their wooden floors with decorative mats, and braided straw mats were common in homes of the time. In the early 1800s, New England became a center for woolen fabric mills making wool readily available to New Englanders and it was soon used to braid rugs. Braided woolen rugs became preferred to braided straw mats because they were more durable and prettier. They remained popular because they were far more affordable than commercially made carpets."
Since these were individually made, I asked Stenson if there were any particular patterns that were common, similar to quilts. She responded "In the early days of braiding, old clothing was used to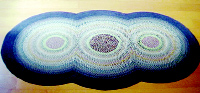 make braided rugs. Not much color planning went into making the rugs because women used whatever wool they had available." She continued, "People commonly referred to this type or style of rug as a hit-or-miss pattern. Typically, at least one strand of black wool ran through the entire rug. The strand of black wool was braided with what ever other two color wools available to the maker. This was not so much for style of the rug as because overcoats, suits and pants were made of black wool and therefore most readily available."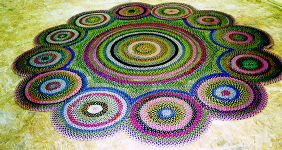 Eventually, through publications and word-of-mouth, certain patterns did emerge. Jan Jurtz of the Country Braid House in Tilton, NH, has a collection of antique braided rugs, and amongst her collection is an example very similar to ones the Shakers made and sold. Known as a "flower", with eight petals, there is a center motif with radiating lines that are encircled with various bands of color. Another "antique" pattern is the multi-circle, with complete circles woven together on tangents. Looking at some of Jurtz's pieces, I observed that braiding became more decorative, and that color and pattern were given much more thought as the art-form evolved. Borders were consistent, and much emphasis was placed on the variation in color and shading. There was a seemingly infinite variation of patterns, including the usual ovals and circles but square and other variations of geometric patterning.
Hand-braided rugs continue to be a favorite amongst those who enjoy time-honored crafts. Stenson notes, "Today these beautifully crafted and durable rugs are admired for their pleasing appeal and charm they add to any room. Crafters no longer use recycled wool to braid rugs. Instead wool is purchased by the yard and cut into strips then braided."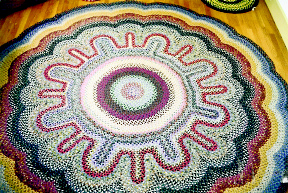 Although time-consuming, there is an obvious advantage to those rugs braided by hand: "Hand-made braided rugs are preferred to machine-made braided rugs," says Michelle, "they're woven of wool fabric and not a synthetic fiber like their machine-made cousins. Additionally, and most importantly, hand-made braided rugs are hand-laced and not stitched on top of the braid as is the machine-made version. In a hand-made rug, the lacing is pulled through the braids and is not seen on the top or bottom of the rug."
While traditional patterns remain popular, Michelle says that today "rug-crafters carefully plan a color scheme to fit their home. There are no general rules for color choice. Some rug braiders plan for very specific colors and others will braid whatever is on hand. Just as color is the personal preference of the braider, combinations of colors and row patterns are also the decision of the rug maker. The only recommendation for braiders is to end your rug with a row of the darkest colors being used. The dark colors will frame the rug creating a border."
Our staff features writer, Dan Cooper has been working on old houses for over 20 years, and also writes for Old House Interiors, Period Homes, Cottages and Bungalows amongst other magazines on the subject of architecure, antiques and design.