The Glass House Visitor Center + Design Store
199 Elm Street
New Canaan, Connecticut 06840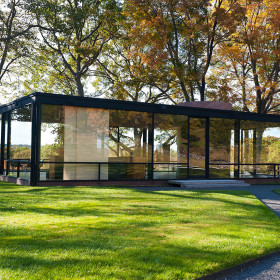 The Glass House is open as an outdoor-only experience in a limited capacity on Friday, Saturday, Sunday, and Monday between the hours of 10:00 am – 4:00 pm.
Here's the link to the opening information: https://theglasshouse.org/visit/
Explore the Glass House: https://theglasshouse.org/explore/
The Glass House 360: https://theglasshouse.org/explore/the-glass-house/360-views/
Texture & Transparency: Visual Tours of Philip Johnson's Glass House: https://theglasshouse.org/learn/texture-transparency-visual-tours-of-philip-johnsons-glass-house/
The Glass House, built between 1949 and 1995 by famed architect Philip Johnson in New Canaan, Connecticut, is one of the nation's greatest modern architectural landmarks. Inspired by Mies van der Rohe's Farnsworth House, the Glass House's exterior walls are made of glass with no interior walls, a radical departure from houses of the time.
The pastoral 49-acre landscape comprises fourteen structures, including the Glass House (1949), and features a permanent collection of renowned 20th century painting and sculpture, along with temporary exhibitions.
The house, which ushered the International Style into residential American architecture, is iconic because of its innovative use of materials and its seamless integration into the landscape. It began an odyssey of architectural experimentation in forms, materials, and ideas through the addition of many new "pavilions" — Guest House, Lake Pavilion, Painting Gallery, Sculpture Gallery, Ghost House, Studio, and Visitors Pavilion — and the methodical sculpting of the surrounding landscape. Today, the campus is an example of the successful preservation and interpretation of modern architecture, landscape, and art.
Link to the website: https://theglasshouse.org