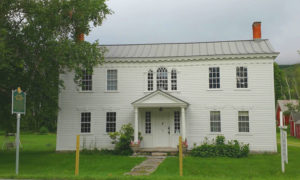 The Governor Galusha Homestead in Shaftsbury Center, VT is an amazing survival of original freehand brushwork. Jonas Galusha (1752-1834) served as a captain in the Vermont militia in the Revolutionary War, fighting at the Battle of Bennington. Later a farmer and innkeeper, he married Mary Chittenden in 1778 and had nine children. He became active in politics serving as Sheriff and a Vermont Supreme Court judge before becoming Governor from 1809-13 and again 1815-20. When he died of a stroke in 1834, his obituary says " …he served with honor to himself and the State… he was honest and upright in all his actions." He is interred at the Center Shaftsbury Cemetery.
His house was built in 1783, and expanded into a two-story addition using a 1809 design by Lavius Fillmore, a well-known architect recently relocated from Connecticut. The result was an elegant Federal home which remained in the family until 2010. The elaborate exterior includes architectural features such as a detailed cornice with shaped lintels, sidelights on either side of the front door, round columns on the porch and a Palladium window. It is now the home of the Shaftsbury Historical Society and on the National Registry of Historic Places. (Research paper by B. Marino, Shaftsbury Historical Society, 2016; Borders & Scrolls: Early American Brush-Stroke Wall Painting by M. Coffin, pg.65) It is protected by covenants between the Galusha descendants and the Vermont Land Trust.
The house retains original interior features from the early 19th century, including hand-forged hinges and latches said to have been made by Jonas Galusha himself. The woodwork is beautifully detailed with inset panels and dentil molding on the fireplaces. Original freehand brushwork remains in an upstairs bedchamber, with signs of there originally being decoration in two upper rooms and the downstairs front hall. A second bedchamber had several layers of wall paper removed and a family member used tracings from the original brushstrokes on the wall to repaint it.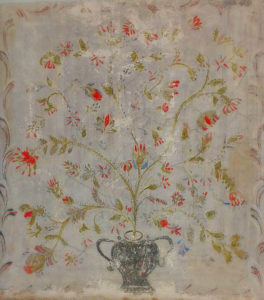 The original freehand scrolled over mantel in the bedchamber is remarkable with its vase of flowers framed with a brushstroke border. Those floral motifs bear a close resemblance to those pictured in the Kittle House in Muitzskill, NY and Van Wormer House in West Fort Ann, NY. The three towns are in a 60-mile radius of Shaftsbury and the likelihood exists they were painted by the same artist. Not only the motifs but the brushstroke formation is similar on each of the walls along with a limited palette of colors all characteristic that would lead one to believe it was the same hand. A brushstroke is like a signature – pressure on the brush forms the stroke.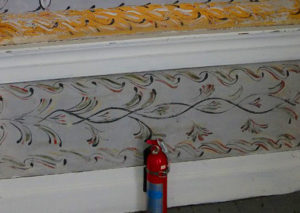 The brushwork is strong and decisive extolling the ability of the artist and the layout follows the construction lines of the room– door, window frame, chair rail, baseboard. The background light gray color provides a perfect canvas for the overall pattern of flowers and foliage. The stems and vines are painted in black along with many black accents throughout the room. The pattern is totally different below the chair rail.
More about:
The Center for Painted Wall Preservation
Paint decorated plaster walls tell a story about our nation's history when democracy was new and the American spirit was active. These massive paintings remind us of a simpler, more agrarian time.
Paint decorated plaster walls are vulnerable and in jeopardy because of environmental and ownership changes and the whims of man. If we lose those magnificent records from a life in early 19th century America, we lose priceless narratives of an ebullient period when patriotism reflected the passion that inspired Americans to exhibit love for their country through decoration. Once the walls are gone, they are gone forever. This sad truth makes the documentation and authentication work of The Center for Painted Wall Preservation timely and incredibly important.
If you need conservation for paint decorated plaster….
Some of the finest examples of 19th century American Folk Art are rapidly disappearing! The name Rufus Porter conjures up scenic landscapes painted on plaster in Massachusetts. Recently, CPWP was in a home documenting the remains of paint decorated walls and learned that much f the early painted plaster had been removed and thrown into a dumpster before it could be examined and documented. CPWP helps homeowners and museums find the appropriate solution to care for and conserve their paint decorated walls – including: documentation, registration and conservation suggestions for paint decorated walls.
If you find paint decorated plaster…
Experts from CPWP are dispatched to document and archive these American folk art treasures to ensure that they will be recorded for generations, no mater who owns them or what happens to them. If CPWP is unable to visit the site, directions will be communicated so the local historian or owner can complete the task and the walls will be recorded and registered in the database.
CPWP has developed a digital and interpretive archive of over 500 paint decorated walls throughout all of New England, Pennsylvania and Ohio. These treasures are stencil painted, freehand painted and painted as murals. CPWP is currently discovering previously undocumented painted walls that are the work of some of America's most significant folk artists from the early 1800s. The digital archive will be available on-line to homeowners, researchers and historians to allow them to determine if their discovery has been previously documented by CPWP.
CPWP is dedicated to the research and preservation of eighteenth and early nineteenth century American paint decorated plaster walls. Our goal is to survey and document these walls, in situ or in collections, further the appreciation of this rare and vulnerable art form and serve as a resource for the preservation and conservation of painted plaster walls for future generations and to develop and strategy for their conservation and preservation.
CPWP President Linda Carter Lefko tells us more about this organization:
The Center for Painted Wall Preservation is dedicated to documentation and preservation of the painted past of these artisans. We are a not-for-profit 501(c)(3) organization. We are an all volunteer effort; and we require working capital to further our research and to continue the development of the digital archive of early American paint decorated walls. A financial gift greatly benefits our efforts to provide future generations the opportunity to experience, research and appreciate these significant folk art treasures from the America's past. During this end of year fundraising drive please consider making a tax-deductible donation to help us continue our work, either by check to The Center for Painted Wall Preservation, P O Box 187, Hallowell, Maine 04347 or on the www.pwpcenter.org website link using PayPal. To email us please go to info@pwpcenter.org