Old Sturbridge Village
1 Old Sturbridge Village Road
Sturbridge, Massachusetts 01566
Updated Old Sturbridge Village hours:
Saturday, November 28, from 9:30 am to 4:00 pm. Guests can reserve their tickets here. 
In order to focus on evening holiday programming, the Village will be CLOSED for daytime visits November 29 through the end of December. Our special evening Christmas program, Christmas by Candlelight, runs December 4-6, 11-13, 18-20, 23, and 27-30. 
Please note: All visitors and members will be required to purchase and/or reserve their tickets online to manage capacity in accordance with Massachusetts reopening guidelines. Learn more here.
Christmas by Candlelight
December 4-6, 11-13, 18-20, 23 & 27-30, 2020
Come experience the history of Christmas traditions at Old Sturbridge Village. Our programs are designed with your safety in mind – featuring a vast array of outdoor festivities. Relish old traditions and create new ones as we highlight homemade Christmas décor. See demonstrations of classic Christmas projects like knitting stockings, wreath making, and making natural ornaments. Watch as we make a traditional Christmas meal, punch tin lanterns, and other special projects. You'll enjoy strolling from the common to the countryside as you enjoy our festive, outdoor decorations, Christmas Tree Trail, and Christmas Wish Bridge. And Christmas by Candlelight wouldn't be complete without a horse-drawn carryall ride and warming up by the bonfires. We hope your family will join ours, as we celebrate a very special Christmas.
We also plan to fire our 24-foot kiln for the second time this year, on the weekend of December 18-20!
Link to Christmas by Candlelight: https://www.osv.org/event/christmas-by-candlelight-2020/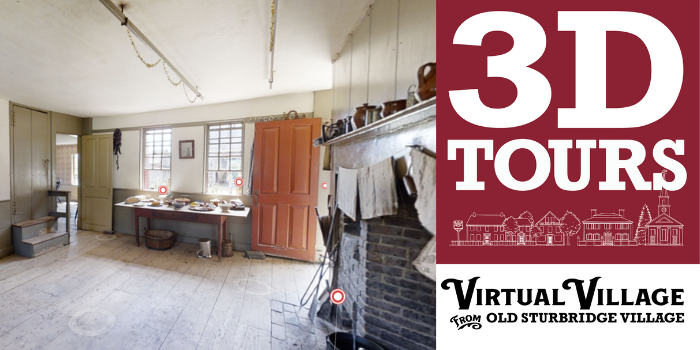 New 3D Tours!
If you can't visit Old Sturbridge Village in person, explore several of the Village's buildings in this new 3D tour! Even if you have visited OSV many times before, this tour will allow virtual visitors to get up close to artifacts that are usually tucked behind barriers. Catalog the items in the Asa Knight Store, examine the pottery on the shelves in the pottery shop, and see what new discoveries you can make in the Freeman Farmhouse!
Throughout the tour, pins will allow you to look closer or learn new information. There are also new videos with some of the Village's knowledgeable costumed historians to bring life to the spaces.
Link to 3D Tours: https://www.osv.org/education/3d/
Visit the Virtual Village: https://www.osv.org/virtual-village/
Historical Craft Classes: https://www.osv.org/event/historical-craft-classes/
Welcome to Old Sturbridge Village – an outdoor living history museum depicting life in an early 19th-century rural New England village, featuring costumed historians, artisans and farmers; historic homes, trade shops and water-powered mills; a working farm with heritage breed animals; and permanent and rotating exhibits.
We recommend allowing at least three hours to tour the Village, though many stay for the day.
Link to the website: https://www.osv.org