After World War II, there was a huge demand for housing that lead to one of the largest building booms in America. It required a whole host of new materials and design ideas for middle class housing, which lead to the great expansion of the suburbs.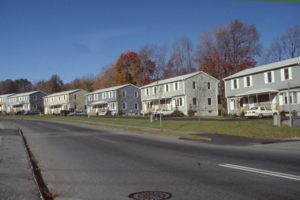 At the close of World War II, an unparalleled demand for housing required construction of 11 to 12 million units. New building had been slow through the decade of the Great Depression, followed by material shortages during five years of war. This greatest demand was for middle-class housing, facilitated by government-insured mortgages. The high cost of building supplies and relatively low cost of land resulted in smaller houses on larger lots compared to pre-war designs. Most were built on former farmland at the edges of cities and towns.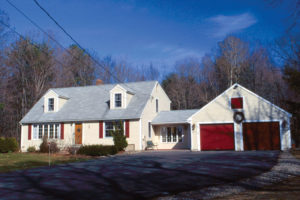 The most favored designs during the late '40s and '50s were the ranch house and the Cape Cod; both were one story with the long façade facing the street and a broad, low roofline. Front porches, if present, were small, replaced by a patio at the rear of the house. For economy, historically derived detailing was added only sparingly. The Cape Cod form, popular on the east coast, could be identified by a higher ridgeline than seen on the ranch style, a centered entrance, traditional double-hung sash windows with shutters and clapboarding or brick veneer on the exterior. The ranch house usually avoided even the suggestion of traditional materials or designs, favoring instead the plain, horizontal, sometimes unsymmetrical influences of the Prairie style. Walls held ribbon windows placed high near the cornice.
Overtly modern designs, while known, were avoided by developers who built large tracts of these homes during the 1950s. But interiors were not traditional; they continued the open floorplans seen in bungalows a generation earlier with an emphasis on casual, more informal living. Family rooms replaced living rooms, dining rooms disappeared, and kitchens grew larger with more appliances. The attached two-car garage became universal.
In the continuing prosperity 1970s, houses grew larger and split-levels became popular. These designs usually consisted of a two story section with a two car garage on the first level and bedrooms above attached to a one story portion set halfway between the other two levels containing a living room with a large picture window and other rooms arranged behind.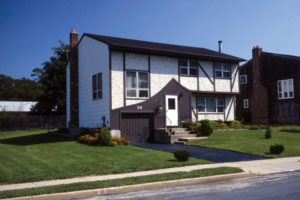 The entrance was placed at the juncture of the three levels with stairs accessing all parts. As these house forms had no precedent, historical detailing was usually absent.
Historical styling, most often drawn from Colonial Revival sources, became much more common in the '80s and '90s. While correct reproductions were built in some high-style neighborhoods, much Colonial Revival– or Tudor– inspired designs – consisted of awkwardly applied ornament added to poorly proportioned designs that could not be mistaken for an original.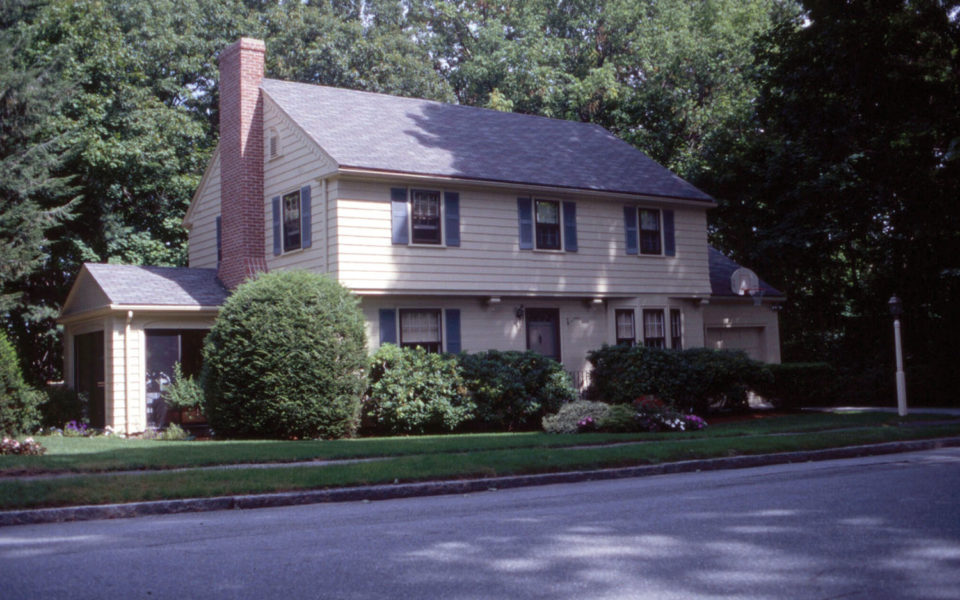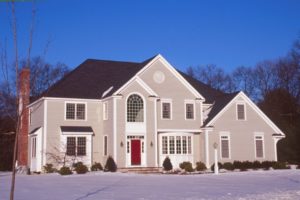 In the 21st century, houses of generous size are being built to accommodate many more and larger rooms often including gourmet kitchens, home-theatres and multi-car garages. Set on large lots, these designs frequently recall the late Queen Anne style with asymmetric façades, double gables, large hall windows and exteriors clad in several diverse materials such as stone, stucco and shingles.
From Our Trusted Partners
Featured property
Massachusetts, Marshfield
Early American Colonial | $ 998,000
Early Home
View Details